Our Team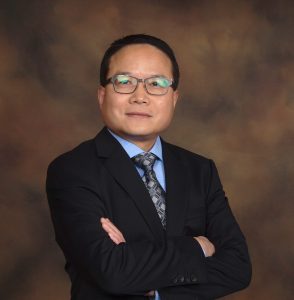 Dr. Weidong Yang, D.M.D.
Dr. Weidong Yang has been practicing general dentistry and oral surgery for 18 years. He obtained his DMD (Doctor of Dental Medicine) from the School of Dental Medicine at the University of Pennsylvania, where he received advanced training and was appointed as faculty/senior fellow in the Dental School.
Dr. Yang received his first dental degree from Dental School of Xi'an Jiaotong University, and then attended Oral Maxillofacial Surgery Resident program, started his practice as oral surgeon and faculty in Dental School of Fourth Military Medical University in China. Dr. Yang received his second dental degree (Doctor of Medicine in Dentistry) from School of Dental Medicine, University of Pennsylvania, then worked as faculty in the school for about 3 years. During his dental practice in dental school, he received professional awards and academic achievements recognized by professional peers, including technology development, patent, clinic research papers published in scientific journals.
After practicing for a number of years in Philadelphia, Dr. Yang and his wife, Yan Wang, decided to move back to Delaware to be closer to their Newark home. Dr. Yang joined private practice in 2012. Due to his extensive special training and academic experience, he can provide the highest quality of dental care in many specialty disciplines including cosmetic restoration, implant, periodontal and oral surgery, and endodontic treatment. He is an active member of the Academy of General Dentistry, America Dental Association, International Dental Implant Association, and Delaware Dental Society. He has published papers in many professional journals.
His lovely wife, Yan Wang works at University of Delaware, and their daughter is a dental student in Temple University. He enjoys sports, fishing, and reading and playing with his dog (corgi), named Turbo.
---
Dr. Deepali Gham, D.D.S.
Dr. Deepali Gham has been practicing general dentistry for more than 10 years. She graduated from Boston University in 2006. She also has a Masters degree in Public Health from the Universiity of Iowa. She practiced in Boston for 6 years, in Maryland for 4 years before joining our team in spring of 2016.
Dr. Gham has excellent experience in all phases of general dentistry. She particularly enjoys performing restorative dentistry (fillings, crowns and bridges). She is very dedicated to her work. Patient comfort and service are her top priorities. She believes prevention and patient education should be the cornerstones of any general dentistry.
Dr. Gham has two beautiful daughters who keep her busy. She enjoys spending time with her family. Dr. Gham resides in Hockessin. In her free time, she likes travelling, hiking and listening to music.
Dr. Catherine Young, D.M.D.
Dr. Catherine Young was born and raised in Philadelphia, PA. She received her B.S. in Biochemistry and Doctor of Dental Medicine at Temple University. She practiced in Pennsylvania and Maryland before joining our office in the fall of 2010.
---
If you'd like to learn more about our Newark family dentistry or any of our team members, don't hesitate to give us a call at your convenience!